B-Capta™ Blood-Gas Monitoring
The ready-to-go in-line blood-gas monitoring system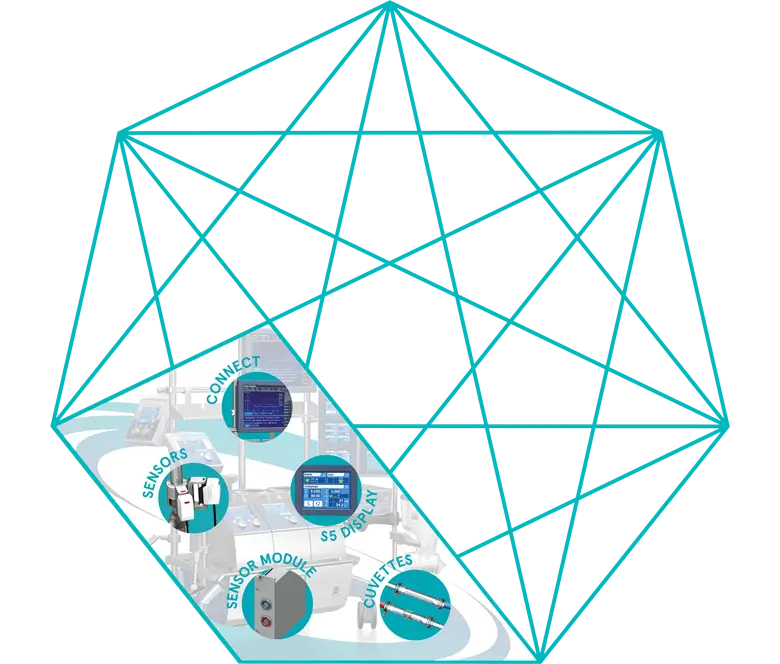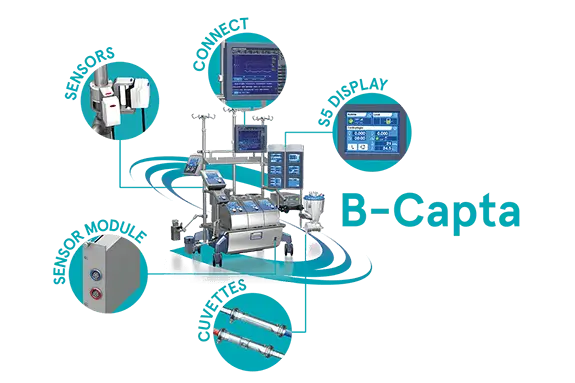 An Accurate Blood-Gas Monitoring System
Designed to easily and accurately monitor arterial and venous blood-gas parameters even in long and complex pediatric and adult cardiopulmonary bypass procedures.
Key benefits:
Provides continuous in-line monitoring of the patient's blood parameters and allows the operator to quickly react to changes.
Supports the implementation of the Goal-Directed Perfusion (GDP) therapy in Connect, that enables perfusionists to maintain accurate perfusion procedure records.1,2
A Fast and Continuous Monitoring Device
Blood-gas analyzers only reflect the patient's clinical condition at the exact moment the sample is drawn, meaning that, by the time the result is received, the blood-gas parameters no longer reflect the patient's actual condition.3,4
By continuously monitoring the patient's blood-gas parameters, B-Capta™ can support the perfusionist during the entire cardiopulmonary bypass procedure.
References
1. Ranucci M. et al., Carbon dioxide production during cardiopulmonary bypass: pathophysiology, measure and clinical relevance -Perfusion 2016.
2. RanucciM. et al., Oxygen Delivery During Cardiopulmonary Bypass and Acute Renal Failure After Coronary Operations -ATS 2005.
3. Ottens J. et al., Improving Cardiopulmonary Bypass: Does Continuous Blood Gas Monitoring Have a Role to Play? -JECT. 2010;42:191–198.
4. Trowbridge CC et al., The Effects of Continuous Blood Gas Monitoring During Cardiopulmonary Bypass: A Prospective, Randomized Study-Part II -The Journal of ExtracorporealTechnology, 2000.
5. Merkle F. at al., Evaluation of attention, perception and stress levels of clinical cardiovascular perfusionists during cardiac operations: a pilot study-Perfusion 2019
Safety Information
1. INDICATIONS FOR USE / INTENDED PURPOSE
The B-Capta is intended to be used for in-line continuous monitoring of patient's blood parameters during procedures requiring extracorporeal circulation. Provided in-line measured parameters are:
in the Venous line:
Haematocrit / Haemoglobin (Hct/Hb)
Venous blood oxygen saturation (sO2)
Venous blood temperature (venT) in the Arterial line:
Arterial blood oxygen partial pressure (pO2)
Arterial blood temperature (artT)
The cuvettes are intended for use in adult and pediatric surgical procedures requiring cardiopulmonary to support monitoring of above mentioned parameters bypass. The devices are intended to be used for 6 hours or less. The B-Capta venous and arterial cuvettes must only be used with the B-Capta equipment.
2. CONTRAINDICATIONS
No contraindications are known if thedevice is used for the purpose described and in accordance with the stated operating conditions. Do not use the device for any purpose other than indicated.
3. WARNINGS
The device must be used in accordance with the instructions for use provided in the Instructions for Use. For a complete listing of warnings please refer to the Instructions for Use which accompany each product
4. PRECAUTIONS
Federal law (U.S.A.) restricts this device to sale by or on the order of a physician. For a complete listing of precautions/cautions please refer to the Instructions for Use which accompany each product.
The devices should be used by qualified and skilled personnel, able to follow the indications and instructions for use contained in the information providedby the manufacturer. Please contact us through our website (www.sorinmanuals.com) to receive instructions for use containing full prescribing information including indications, contraindications, warnings, precautions and adverse events.
The information contained in this summary represents partial excerpts taken from the product labeling. The information is not intended to serve as a substitute for a complete and through understanding of the device nor does this information represent full disclosure of all pertinent information concerning the use of this product. Not approved in all geographies. Consult your labeling.
Legal Manufacturer (equipment):
LivaNova Deutschland GmbH
Lindberghstrasse 25
D-80939 Munich, Germany
Legal Manufacturer (cuvettes):
Sorin group italia S.r.l.
Via Statale 12 Nord, 86
41037 Mirandola (MO) Italy
Distributed in the USA by:
LivaNova USA
14401 W 65th Way
Arvada, CO 80004
For safety information of Connect and S5, please refer to relevant product pages.