Xtra™ Autotransfusion System
The extraordinary flexible, intuitive and powerful ATS System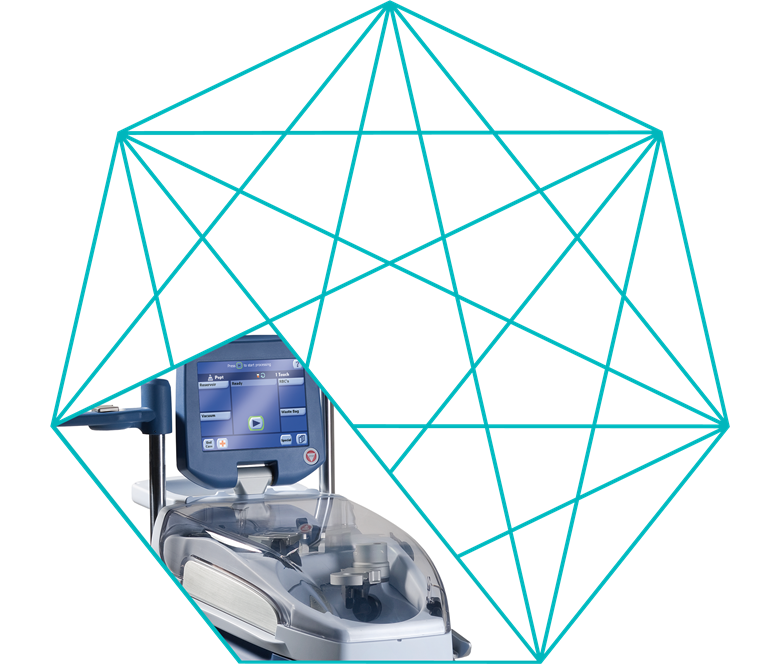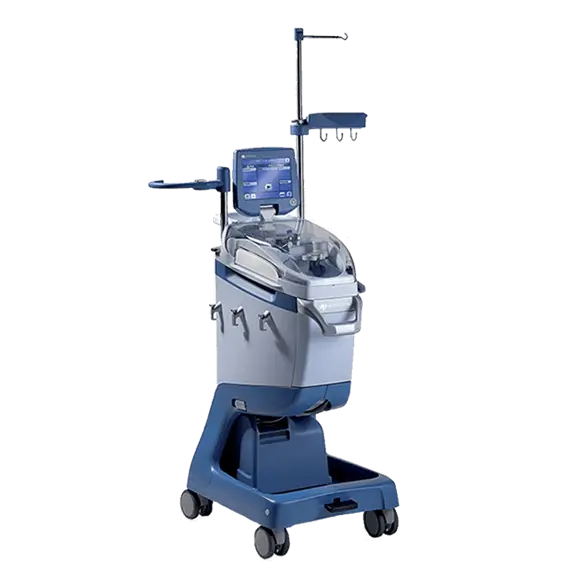 Xtra™ autotransfusion system is the complete solution for blood management.
It brings together three decades of experience and improvements in cell salvage procedures, treating more than 0.5 million patients per year.
Ready to meet any surgical scenario: from scheduled treatments to emergency situations and everything in between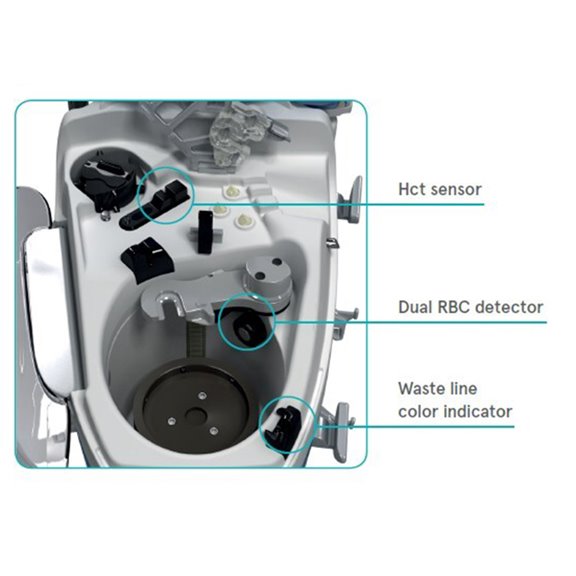 Performance where you need it1
Consistently high RBC hematocrit and wash quality with standard protocol
Excellent heparin and protein removal
High RBC recovery rate
Quiet and powerful vacuum pump
Specific protocol for fat removal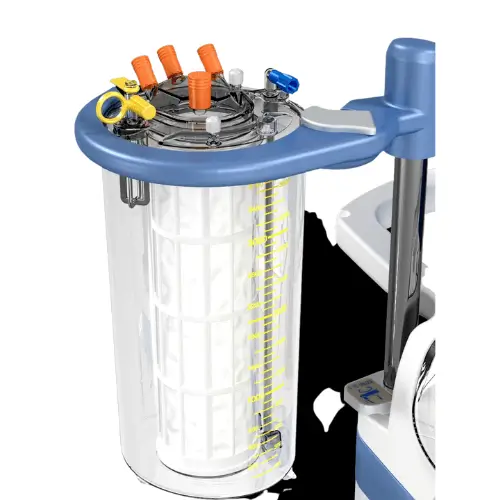 Flexibility where you want it 2
Flexible choice of intra, post-op and sequestration protocol
Wide range of bowl sizes and disposables to choose from
Low minimum required Red Blood Cell mass to process
Fast Processing to manage high volume blood loss
Complete control over your data, printed or stored
Emergency protocol for fast blood process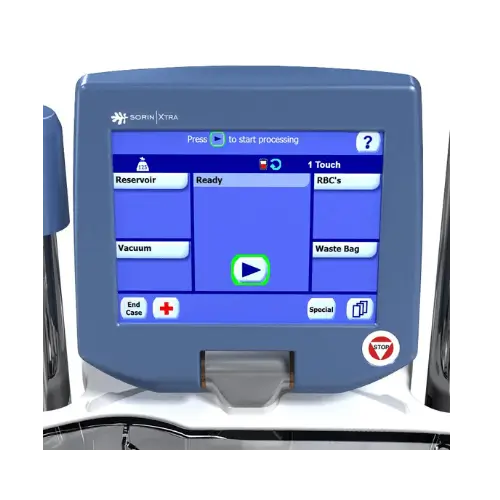 Intuitive when you use it
Fast and intuitive setup
Fully automated operation from the start to the end of the caseIntuitive
User Interface with color touch screen, mimicking the S5 and C5 Heart-Lung Machines controls
Refined ergonomics and reduced footprint for manageable procedures
Clinical Applications
Despite being a widely used procedure, there are known risks associated with blood transfusion. Adverse events are still found in clinical practice related either directly or indirectly to homologous blood transfusion.3,4

Autotransfusion plays a key role as part of an effective blood management strategy.5 It can contribute to improved clinical outcomes in a cost-effective manner, either as stand-alone or as part of a Patient Blood Management program.6-8
In Cardiac Surgery
Patients undergoing cardiac surgeries are commonly at an advanced stage and comorbidities such as myocardial infarction, making effective blood products management an essential component of their care.9-11
Autotransfusion lowers the transfusion rates during and after Cardiac Surgery.7,8
Outside of Cardiac Surgery
The rate of allogeneic red blood cell transfusions in non-cardiac surgery settings has been found to be between 21% and 70%, with the majority of authors reporting figures in the middle of the range.12 Allogeneic blood transfusion raises multiple challenges:13
Risk of pathogen transmission
Health/economic costs
Scarcity of resources
Autotransfusion supports clinicians and patients in reducing blood transfusions.4 What's more, it is a cost-effective option in different surgical fields.8
In orthopedics, autotransfusion is safe, effective and reduces the risk of transmission of infections.1
In vascular surgery, it reduces the risk of allogeneic blood transfusion, the length of intensive care unit and hospital length stay.15-17
In obstetric surgery, autotransfusion is considered to be more effective and useful than the other blood conservation techniques and endorsed by CEMACH, OAA/AAGBI guidelines, the National Blood Service and NICE.16
In transplant surgery, autotransfusion can reduce the need for heterologous blood transfusion and the risk of transmissible diseases.19,20
References
1. Overdevest et al. "Clinical evaluation of the Sorin Xtra® autotransfusion system." Perfusion 2012, 27(4) 278–283
2. Bauman et al. (2015) "Evaluation of the minimum volume of salvaged blood required for the successful use of two different autotransfusion device" Pediatric Anesthesia 25 (2015) 258–264
3. Kilic et al. "Blood transfusions in cardiac surgery: indications, risks, and conservation strategies." Ann Thorac Surg. 2014 Feb;97(2):726-34.
4. Kozek-Langenecker et al. "Management of severe perioperative bleeding: Guidelines from the European Society of Anaesthesiology." Eur J Anaesthesiol 2017; 34:332–395
5. Meybohm et al. "Washed cell salvage in surgical patients. A review and meta-analysis of prospective randomized trials under PRISMA." Medicine (Baltimore). 2016 Aug;95(31):e4490
6. Roberts et al. "The global need and availability of blood products: a modelling study." Lancet Haematol. 2019 Dec;6(12):e606-e615.
7. Vonk et al. "Intraoperative cell salvage is associated with reduced postoperative blood loss and transfusionrequirements in cardiac surgery: a cohort study." Transfusion. 2013 Nov;53(11):2782-9.
8. Côté et al. "Efficacy of intraoperative cell salvage in decreasing perioperative blood transfusion rates in first-time cardiac surgery patients: a retrospective study." Can J Surg. 2016 Sep;59(5):330-6.
9. Robich et al. "Trends in blood utilization in United States cardiac surgical patients." Transfusion. 2015 Apr;55(4):805-14.
10. Geissler et al. "Utilisation of blood components in cardiac surgery: a single-centre retrospectiveanalysis with regard to diagnosis-related procedures." Transfus Med Hemother . 2015 Mar;42(2):75-82.
11. Ad et al. "Effect of patient age on blood product transfusion after cardiac surgery." The Journal of Thoracic and Cardiovascular Surgery, 19 Mar 2015, 150(1):209-214
12. Carling et al."Transfusions and blood loss in total hip and knee arthroplasty: a prospective observational study." J Orthop Surg Res. 2015 Mar 28;10:48.
13. Carless et al. "Cell salvage for minimising perioperative allogeneic blood transfusion." Cochrane Database Syst Rev. 2010 Mar 17;(3):CD001888. doi: 10.1002/14651858.CD001888.pub3. Review. Update in Cochrane Database Syst Rev. 2010;(4):CD001888.
14. Shenolikar A, et al. "Cell salvage auto transfusion in total knee replacement surgery." Transfus Med. 1997;7:277–80.
Safety Information
1. INDICATIONS FOR USE / INTENDED PURPOSE
EU/International: XTRA is indicated for use for intraoperative recovery of blood, washing of blood collected in the postoperative period and preoperative sequestration (with indirect patient connection). The XVAC is indicated for use for intraoperative and postoperative recovery of blood for autotransfusion procedures. Intraoperative blood salvage is widely employed in surgical procedures where blood loss occurs during the course of the operation, whereas postoperative blood salvage is used in surgical procedures where bleeding may occur during the postoperative course. Typical clinical applications of autotransfusion include the following surgical specialties: Cardiovascular, Orthopedics, Thoracic, Transplant Surgery, Emergency (Trauma), Neurosurgery, Obstetrics and Gynecology, and Urology.
US: The XTRA Autotransfusion System is indicated for intraoperative and postoperative recovery of blood, washing of the processed blood and preoperative sequestration (with indirect patient connection). Typical clinical applications of autotransfusion include the following surgical specialties: Cardiovascular, Orthopedics, Thoracic, Transplant Surgery, Emergency (Trauma), Neurosurgery, Obstetrics and Gynecology, and Urology. The XVAC is indicated for use only with the XTRA, an autologous blood recovery system indicated for intra-and post-operative autotransfusion, as well as for pre-operative sequestration.
2. CONTRAINDICATIONS
There are no known contraindications for the XTRA. However, the use of blood processed by this device may be contraindicated under some circumstances. The responsibility for the use of the device in all cases belongs solely to the physician in charge.
3. WARNINGS
The device must be used in accordance with the instructions for use. For a complete listing of warnings, please refer to the Instructions for Use which accompany each product.
4. PRECAUTIONS
The XTRA must be used only with XTRA disposables. Federal law (U.S.A.) restricts this device to sale by or on the order of a physician. For a complete listing of precautions/cautions please refer to the Instructions for Use which accompany each product.
The devices should be used by qualified and skilled personnel, able to follow the indications and instructions for use contained in the information provided by the manufacturer. Please contact us through our website (www.sorinmanuals.com) to receive instructions for use containing full prescribing information including indications, contraindications, warnings, precautions and adverse events.
The information contained in this summary represents partial excerpts taken from the product labeling. The information is not intended to serve as a substitute for a complete and through understanding of the device nor does this information represent full disclosure of all pertinent information concerning the use of this product. Not approved in all geographies. Consult your labeling.
Legal Manufacturer:
LivaNova Deutschland
Lindberghstrasse 25
D-80939 Munich, Germany
Distributed in the USA by:
LivaNova USA
14401 W 65th Way
Arvada, CO 80004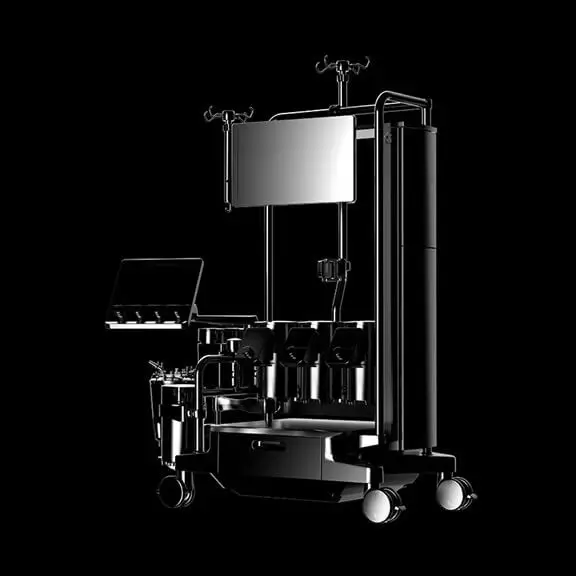 Essenz™
Perfusion System
Enter the New Era of Perfusion
Built on LivaNova's 50-year legacy of safety and reliability, Essenz supports the Perfusionist in doing what is best for each patient, and allows the entire heart team to continuously improve their clinical practice.