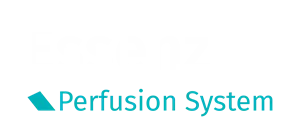 Summary of Safety & Performance Information for Essenz Perfusion System
Please note the Essenz information is available in selected geographies only.
Essenz HLM is not available in the US. 510(K) clearance pending.
1. INDICATIONS FOR USE / INTENDED PURPOSE
Heart-Lung Machine
EU: Devices are intended to perform, control, monitor and support extracorporeal blood circulation replacing the mechanical pumping function of the heart, monitoring and regulating physiologic parameters during procedures requiring extracorporeal circulation.
Essenz Patient Monitor
The Essenz Patient Monitor software is a modularly structured software program package that is exclusively used with LivaNova heart-lung machines. The system allows detailed recording of perfusion data during cardiopulmonary bypass procedures as well as the processing and evaluation of this data. The data may be recorded automatically or entered manually. The LivaNova Perfusion System Monitor is a panel PC intended to be exclusively used with LivaNova heart lung machines as a base and user interface for the Essenz Patient Monitor software.
CONTRAINDICATIONS: No contraindications are known if the devices are used for the purpose described and in accordance with the stated operating conditions. Do not use the devices for any purpose other than indicated.
WARNINGS: The devices must be used in accordance with the instructions for use provided. For a complete listing of warnings please refer to the Instructions for Use. Medical intervention and therapeutic procedure must not be based solely on the Essenz Patient Monitor perfusion records (reports).
PRECAUTIONS: For a complete listing of precautions/cautions please refer to the Instructions for Use. The devices should be used by qualified and skilled personnel, able to follow the indications and instructions for use contained in the information provided by the manufacturer.
Not approved in all geographies. Please contact us through the LivaNova website to receive instructions for use containing full prescribing information including indications, contraindications, warnings, precautions and adverse events.
Legal Manufacturer:
LivaNova Deutschland
Lindberghstrasse 25D-80939
Munich, Germany
Essenz Patient Monitor distributed in the US by:
LivaNova USA
14401 W 65th Way
Arvada, CO 80004