Essenz In-Line Blood Monitor
Accurate in-line blood monitoring at your fingertips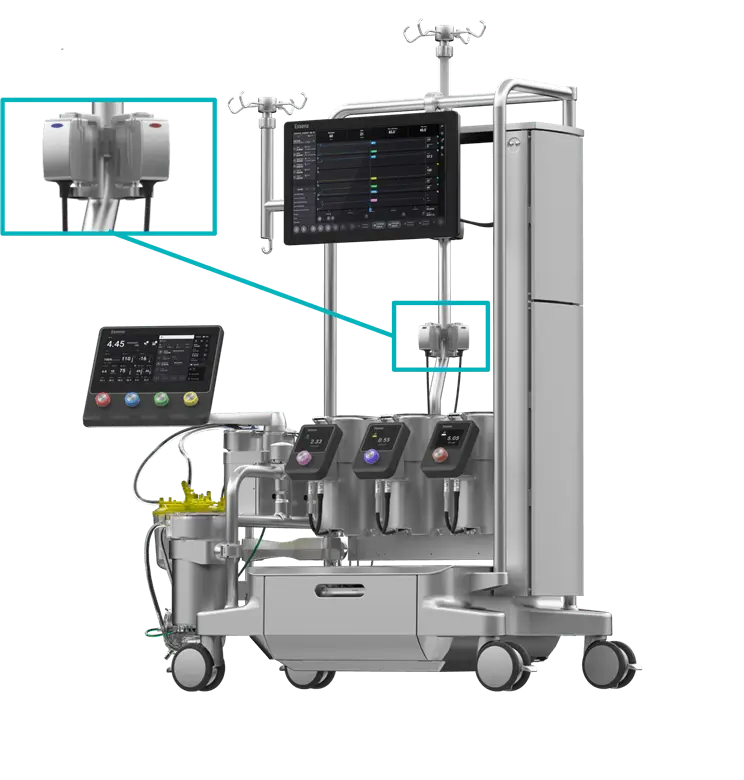 )
Essenz In-Line Blood Monitor, powered by B-Capta sensing technology, is the Ready-To-Go blood monitoring system integrated into the Essenz™ Perfusion System and its cockpit, for accurate measurement of essential patient blood parameters.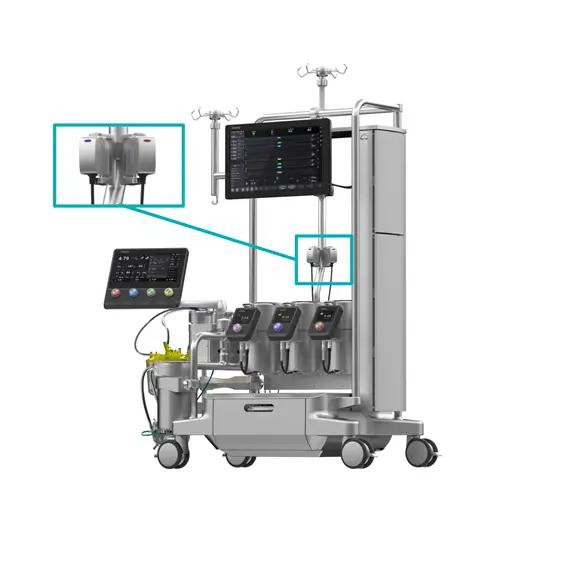 Flexible and Efficient
Integration in the Essenz cockpit means there is no need for external monitors and holders that may obstruct the perfusionist's view during the procedure
Ready-to-Go system does not require any calibration procedure to set the device measurements, allowing the perfusionist to save time during device set up, especially in emergency cases
No need to purchase different sensors for adult and pediatric procedures, as one sensor fits all cuvettes sizes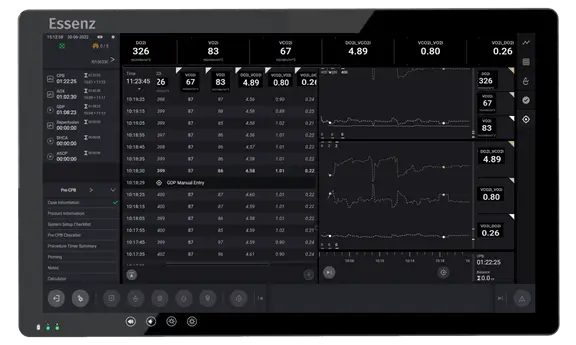 Intuitive
Intuitive user interface, with easy parameter, sensors and settings configuration, leading to a short learning curve
Cockpit provides one central view to control the device and check all perfusion and patient parameters in the right place at the right time, minimizing distractions
Measured values are automatically transferred to the Essenz Patient Monitor, enabling the perfusionist to maintain accurate perfusion procedure records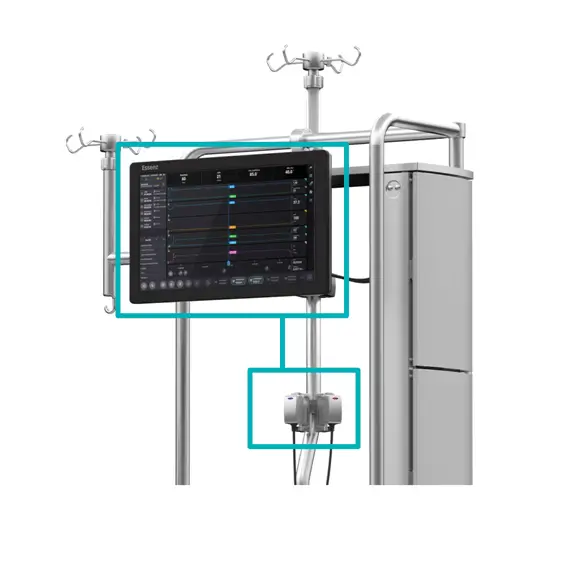 Patient-tailored
No calculated parameters: Essenz In-Line Blood Monitor only provides measured values for the accurate monitoring of Sat, HCT, pO2 and Temperature
Continuous in-line monitoring of the patient's blood parameters allows the operator to quickly react to changes and improve patient outcomes
Accurate sensing technology to support the implementation of Goal-Directed Perfusion (GDP) therapy through the Essenz Patient Monitor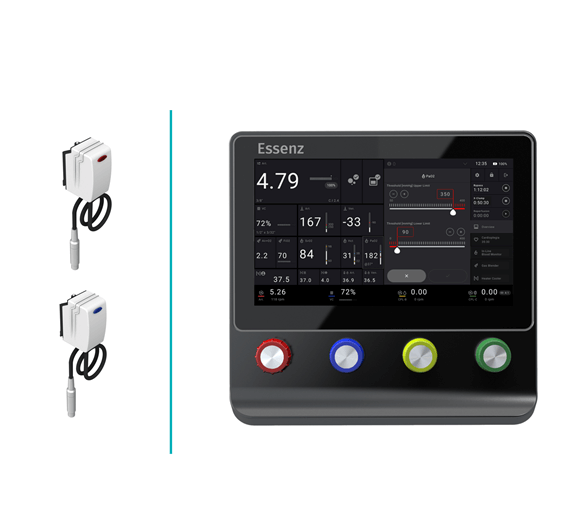 Safe and reliable
Optical based technology provides high levels of accuracy and reliability even in long and complex cardiopulmonary bypass procedures
The only continuous blood monitoring device that works within the CLIA guidelines and provides parameter values in line with Hospital ABL, even prior to alignment1
State-of-the-art safety precautions

Integrated warning system: visual and audible indicators when parameters fall outside thresholds selected by the user
Compensation algorithm to easily adjust the blood parameters according to those of the Hospital ABL

1. Perfusion, 2022, Vol. 0(0) 1–7, Marloes van Hoeven, Eddy Overdevest, Joyce Curvers, Henri van Heugten: A comparison of continuous blood gas monitors during cardiopulmonary bypass LivaNova B-Capta, Terumo CDI 500, spectrum medical M4
Essenz In-Line Blood Monitor cuvettes
Disposable solutions tailored to your needs
Essenz ILBM allows accurate monitoring of pO2 and temperature in the arterial line and oxygen saturation, HCT/Hb and temperature in the venous line.
The venous and arterial disposable cuvettes are available as sterile stand-alone disposables or included in the Perfusion Tubing Systems.
Venous cuvettes are available in three sizes: 1/2", 1/4", 3/8"
Arterial cuvettes are available in two sizes: 3/8", 1/4"
Safety Information
Heart-Lung Machine with Integrated Essenz In-Line Blood Monitor (ILBM)
The Essenz Heart-Lung Machine is intended to perform, control, monitor and support extracorporeal blood circulation replacing the mechanical pumping function of the heart, monitoring and regulating physiologic parameters during procedures requiring extracorporeal circulation.
US: Essenz HLM is intended to be used during cardiopulmonary bypass for procedures lasting six (6) hours or less. Essenz ILBM is indicated for supplementary, in-line monitoring of the extracorporeal arterial oxygen partial pressure, venous oxygen saturation, venous hematocrit/hemoglobin, and arterial and venous temperature during cardiopulmonary bypass procedures up to six hours.
Essenz Patient Monitor
The Essenz Patient Monitor software is a modularly structured software program package that is exclusively used with LivaNova heart-lung machines. The system allows detailed recording of perfusion data during cardiopulmonary bypass procedures as well as the processing and evaluation of this data. The data may be recorded automatically or entered manually. The LivaNova Perfusion System Monitor is a panel PC intended to be exclusively used with LivaNova heart lung machines as a base and user interface for the Essenz Patient Monitor software.
CONTRAINDICATIONS: No contraindications are known if the devices are used for the purpose described and in accordance with the stated operating conditions. Do not use the devices for any purpose other than indicated.
WARNINGS: The devices must be used in accordance with the instructions for use provided. For a complete listing of warnings please refer to the Instructions for Use. Medical intervention and therapeutic procedure must not be based solely on the Essenz Patient Monitor perfusion records (reports).
PRECAUTIONS: Federal law (U.S.A.) restricts these devices to sale by or on the order of a physician. For a complete listing of precautions/cautions please refer to the Instructions for Use. The devices should be used by qualified and skilled personnel, able to follow the indications and instructions for use contained in the information provided by the manufacturer.
Essenz In-Line Blood Monitor and B-Capta Blood Gas Monitor are clinically equivalent in terms of safety and performance as they have the same technology and intended use. Not approved in all geographies, consult your labeling. Please visit the LivaNova website to receive instructions for use containing full prescribing information including indications, contraindications, warnings, precautions and adverse.
Legal Manufacturer:
LivaNova Deutschland
Lindberghstrasse 25D-80939
Munich, Germany
Sorin Group Italia S.r.l.
Via Statale 12 Nord, 86
41037 Mirandola (MO)
Italy
Distributed in the US by:
LivaNova USA
14401 W 65th Way
Arvada, CO 80004, USA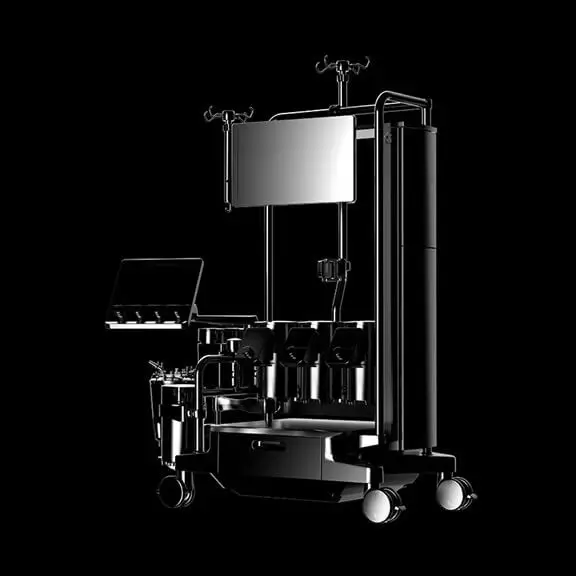 Essenz™
Perfusion System
Enter the New Era of Perfusion
Built on LivaNova's 50-year legacy of safety and reliability, Essenz supports the Perfusionist in doing what is best for each patient, and allows the entire heart team to continuously improve their clinical practice.