Essenz Patient Monitor
Essenz™ Patient Monitor is an innovative monitoring system designed to improve clinical efficiency and quality of patient care throughout the cardiopulmonary procedure.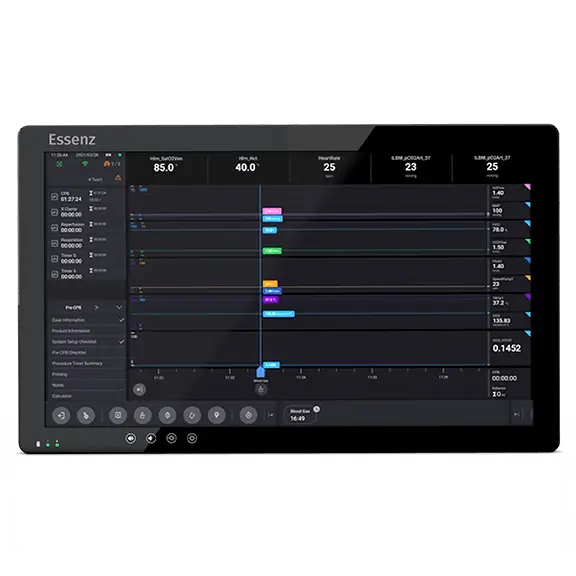 )
Built on LivaNova's strong foundation in cardiopulmonary equipment and perfusion data management, the Essenz Patient Monitor is an integral part of the next-generation perfusion system, Essenz™ Perfusion System.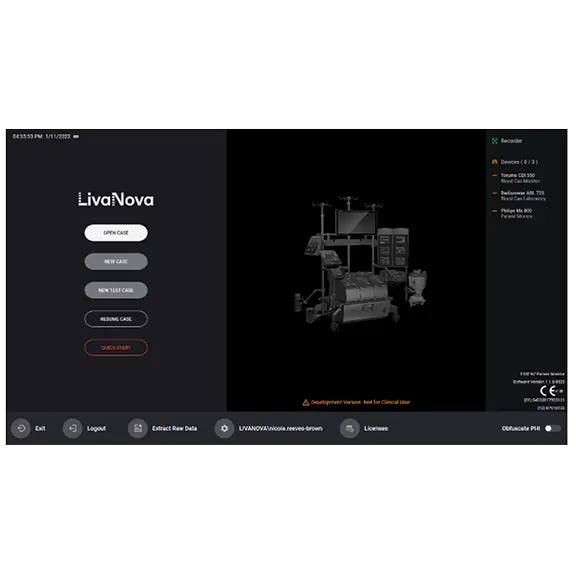 Ease of Use and Intuitive Interaction
The Patient Monitor consists of a 21.5" Perfusion System Monitor (Panel PC) that is a base for a modularly structured software program package, intended to be exclusively used with LivaNova heart-lung machines
An intuitive and easy-to-use high resolution graphical user interface (GUI) designed around the Perfusionist workflow for quick deployment and ease of use according to the feedback of more than 90 perfusionists worldwide
The Monitor's retrospective tool allows the Perfusionist to view the parameter values at any point in the case, ideal for Perfusionist handovers and retrospective analysis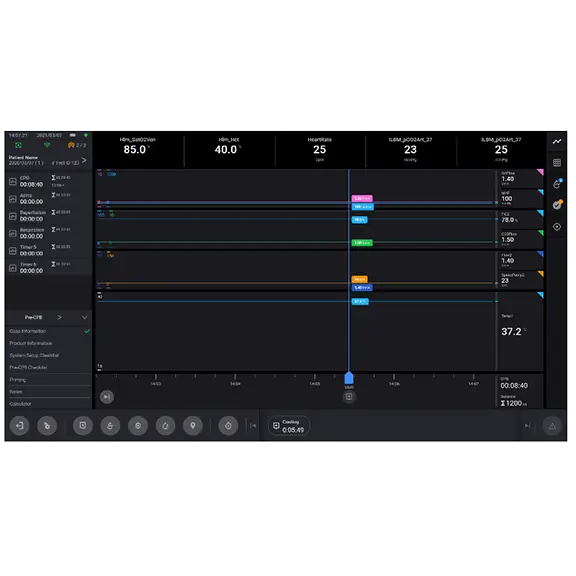 Facilitate Procedure Management
Essenz Patient Monitor features a centralized display that can be configured to show the patient parameters at all times during the case, enabling the implementation of tailored patient care strategies
The pre-op checklists can be completed in advance of a patient being received in the OR, with the HLM on standby so it then can be deployed quickly as needed
Time events and reminders are specifically designed to assist the Perfusionist in the case management according to OR clinical practice
The events bar allows quick entry of generic, drug, fluid and blood events during the case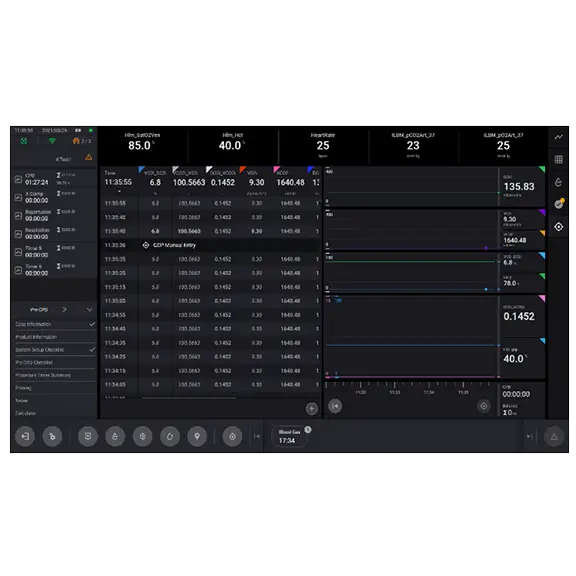 Individualized Patient Care Strategies
Intra-operative Quality Indicator (QI) Threshold and GDP modules support the clinicians, allowing them to individualize the patient management strategy during the case
QIs can be used by the clinicians to monitor patient parameter variation against thresholds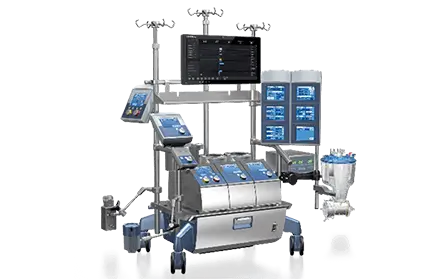 Integrated Solution Within the OR Environment
Connectivity with Hospital to meet Cyber and Patient Data security requirements, allowing integration with OR External Devices & EMR Systems
Export parameter data via a .csv/json file for input into statistical tool packages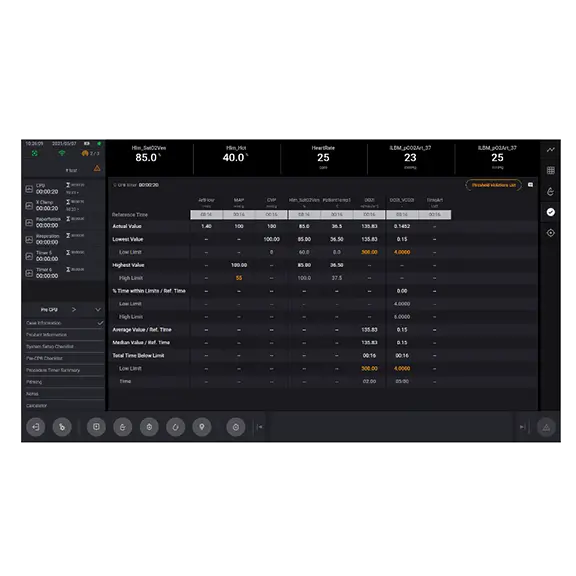 Compliance and Appropriate Care
LivaNova has been working with leading clinicians to use the latest research in the development of the Quality Indicators. The QI Dashboard supports the Perfusionist, allowing them to implement an individualized patient care strategy during the case.
The QI report can be distributed postoperatively to the clinical team to support local compliance and variation targets.

Service and Support
Responsive and effective service and support optimize operational performance and improve patient outcomes, backed by a team of dedicated, local engineers and international service center support

Service Contracts
Flexible and affordable service level agreements are designed to meet the optimal support and on-site responsiveness your hospital needs

Training and Education
LivaNova's blended programs leverage the latest technologies and training best practices to increase user proficiency and maximize operational performance of your equipment

Local Warehouses
To maximize uptime of your equipment, critical spare parts and loan equipment are locally warehoused (in selected countries) and all of our engineers carry trunk stock, enabling greater on-site responsiveness
Safety Information
Summary of Safety & Performance Information for Essenz™ Patient Monitor
1. INDICATIONS FOR USE / INTENDED PURPOSE
EU/US: The ESSENZ™ Patient Monitor Software is a modularly structured software program package that is exclusively used with LivaNova heart-lung machines. The system allows detailed recording of perfusion data during cardiopulmonary bypass procedures as well as the processing and evaluation of this data. The data may be recorded automatically or entered manually.
The LivaNova Perfusion System Monitor is a panel PC intended to be exclusively used with LivaNova heart lung machines as a base and user interface for the ESSENZ™ Patient Monitor Software.
2. CONTRAINDICATIONS
There are no known contraindications for the ESSENZ™ Patient Monitor software or the LivaNova Perfusion System Monitor.
3. WARNINGS
Medical intervention and therapeutic procedure must not be based solely on the perfusion records (reports). The device must be used in accordance with the instructions for use provided in the Instructions for Use. For a complete listing of warnings please refer to the Instructions for Use which accompany each product.
4. PRECAUTIONS
For a complete listing of precautions/cautions please refer to the Instructions for Use which accompany each product.
The devices should be used by qualified and skilled personnel, able to follow the indications and instructions for use contained in the information provided by the manufacturer. Please contact us through our website to receive instructions for use containing full prescribing information including indications, contraindications, warnings, precautions, and risks.
The information contained in this summary represents partial excerpts taken from the product labeling. The information is not intended to serve as a substitute for a complete and through understanding of the device nor does this information represent full disclosure of all pertinent information concerning the use of this product.
Not approved in all geographies. Consult your labeling.
Legal Manufacturer:
LivaNova Deutschland
Lindberghstrasse 25
D-80939 Munich, Germany
Distributed in the USA by:
LivaNova USA
14401 W 65th Way
Arvada, CO 80004
Get More Info About Essenz Patient Monitor
Complete the form and we will be in touch to discuss the Essenz™ Patient Monitor.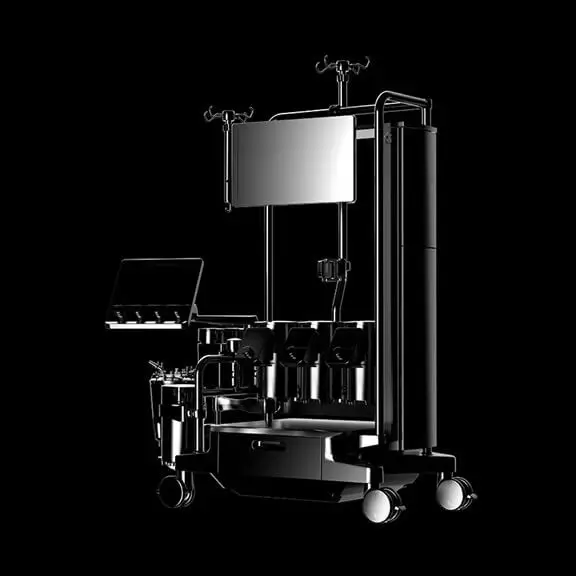 Essenz™
Perfusion System
Enter the New Era of Perfusion
Built on LivaNova's 50-year legacy of safety and reliability, Essenz supports the Perfusionist in doing what is best for each patient, and allows the entire heart team to continuously improve their clinical practice.